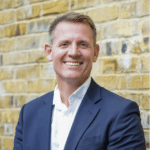 Dean Lamble
Dean joined People's Partnership on 1 September 2022 as a Non-Executive Director.  Dean is a Non-Executive Director of B&CE Insurance Limited and People's Administration Services Limited.  Dean also serves on our Group Audit & Risk Committee.
Until recently Dean was Chief Executive Officer and Board member of SunLife Insurance where he led a significant transformation of the business repositioning the strategy, refreshing the brand, building a top-class management team, and driving a high-performance culture. Dean focussed the business on the customer – driving a digital first operating model with deep capability across analytics and direct marketing leading to an increase in customer satisfaction, over 1 million new to brand customers and significant earnings growth.
Dean is currently working as an advisor within private equity and as a non-executive director in the insurance sector.
Role: Non-Executive Director