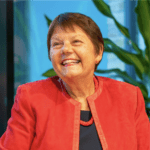 Pat Billingham
Pat is Chair of the Group Audit & Risk Committee and B&CE Insurance Limited. Pat is also a Non-Executive Director of People's Administration Services Limited.
Pat is an experienced non-executive director and has spent over 10 years building a portfolio which includes roles as a Board member, Audit and Risk Committee Chair and Board Chair. Pat has also been the Board Conduct Risk Champion in an insurance business and an Independent NED with responsibility for Culture. Pat is a Non-Executive Director at Hamilton Group Limited, an insurance business which includes a Lloyd's Syndicate and an Irish subsidiary, where she is Chair of the Risk and Remuneration Committees as well as a Board member.
Pat's Executive career was as a tax specialist, both as an Inspector of Taxes and a subsequent career as a tax partner at EY, one of the global Big 4 accounting and professional services firms, where she gained experienced advising international businesses and working with colleagues from across the global reach of the firm.
Her Board career has spanned a number of sectors, including financial services, a listed business in the healthcare sector and the social housing sector. Pat has strong financial services credentials with a familiarity and understanding of regulated businesses and the governance associated with regulation. Pat acts as a coach and mentor and has a strong commitment to improving diversity.
Role: Non-Executive Director