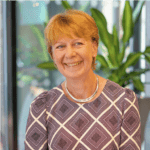 Veronica Oak
Veronica joined People's Partnership on 1 April 2022 and is also Chair of the administration board, People's Administration Services Limited.
Veronica brings a wealth of experience gained within the financial services sector. She has spent over 20 years as an independent marketing and business development consultant helping companies develop their strategy, new products, and services for their customers.
Veronica has held a number of non-executive director positions, including two with mutual organisations (OneFamily and The Hanley Economic Building Society), and has also served on the boards of Chesnara plc and Sanlam in the UK and a trade body that represents the interests of life assurance and investment providers.
Role: Non-Executive Director